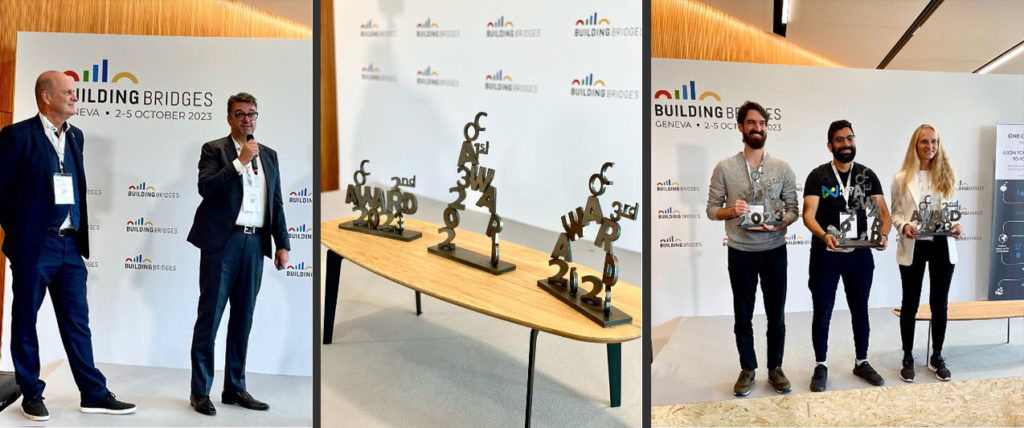 We are thrilled to mark the triumphant conclusion of our second edition for the ONE CREATION Environmental Innovation Awards 2023. The crowning moment took place during an unforgettable ceremony held at Building Bridges 2023 this past Wednesday. In this remarkable edition, we had the privilege of witnessing the accomplishments of three exceptional companies. Noor Nation, an Egyptian enterprise, proudly claimed the top position, while Swiss companies Now Care and Enerdrape secured the second and third positions, respectively.
We extend our thanks to our sponsors, SIG and CONINCO, whose support made this event possible. We also acknowledge our valued partners, CleantechAlps and the Italian Chamber of Commerce for Switzerland, for their invaluable contributions. The dedicated and hardworking staff at Building Bridges played a pivotal role in ensuring the smooth execution of this edition, and for that, we are truly grateful.
A special tribute goes out to our distinguished panel of jury members—Frédérique Delahaye, Monica Dell'Anna, Alberto Giovanni Bussetto, Pierre Erwes, Jean-Christophe Vautrin, and Benjamin Weill—for their expert judgment and guidance throughout the selection process.
We eagerly anticipate the 2024 edition, where we hope to welcome an even more diverse array of visionary companies committed to pioneering groundbreaking environmental solutions for the betterment of future generations. Stay tuned for what promises to be an exciting and impactful event!